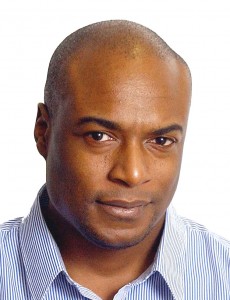 Born in London, England, Anthony moved to Montreal, Canada at the age of four after a brief stint in his parent's home island of Grenada in the West Indies
Growing up in the city's east end, he English-speaking immigrant attended French language school until age 13, when he switched to the English system. So much for learning basic English grammar.
After completing high school, his dreams of becoming an architect were set aside when his 73 percent average after two years in Pure and Applied Science hinted that a place in McGill University's prestigious School of Architecture was not waiting for him. So Anthony studied Interior Design instead, and in his third year found his calling… politics.
South African apartheid, an illegal war in Nicaragua, the ramblings of the Reagan administration and plenty of political reading got his blood boiling. So after a few years running a graphics business, Anthony decided to study History at Concordia University, and began drawing editorial cartoons for The Link, one of the university's student newspapers.
The Gazette's cartoonist Terry Mosher (Aislin) was, and still is, a great influence.
Since then he has worked as and editorial cartoonist for The Montreal Mirror and several other weeklies, and since February 2006, as the associate editor for The Suburban Newspaper, Quebec's largest English language weekly, where he writes feature stories, edits feature and special sections, contributes opinion pieces and produces a weekly political cartoon.
Life is good, when drawn and quartered.